Cambodia establishes middle-school PE curriculum thanks to Hearts of Gold initiative through Sport for Tomorrow programme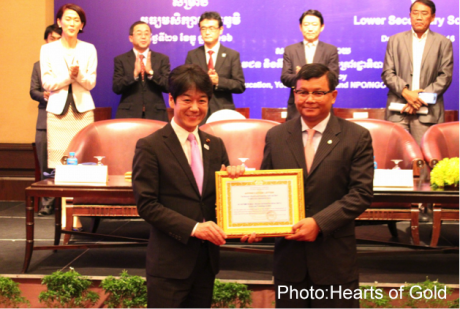 Cambodia's government has approved a new physical education curriculum for middle-school in partnership with the Japanese government's Sport for Tomorrow (SFT) programme.
Hearts of Gold has been working with Japan Sport Council (JSC) under the SFT programme since 2015 to establish a physical education curriculum in Cambodia, where 1,300 middle schools lack a comprehensive curriculum. After researching the current situation, they conducted workshops and sample lessons for government officials and educators, encouraging local teachers to develop plans that local people would welcome and embrace. The resulting curriculum includes traditional physical activities such as Labok Kator, a martial art, and Khmer exercise, a traditional PE in Cambodia, in addition to the world's most popular sports.
A ceremony on 21 December 2016 to acknowledge and celebrate the approval of the new curriculum was attended by Hiroyuki Yoshiie, State Minister of Education, Culture, Sports, Science and Technology of Japan (MEXT), HE Dr. Hang Chuon Naron, Minister of Education, Youth and Sport of Cambodia, and Yuko Arimori, Representative Director of Hearts of Gold.
The Cambodian civil war in the 1970s destroyed the country's education system and infrastructure, and left shortages of educators, with physical education particularly neglected. To change this, Hearts of Gold began working with the Japan International Cooperation Agency (JICA) in 2006 to set guidelines for PE in elementary schools. Thanks to the new middle-school curriculum, students can now follow a course of physical education through elementary and middle school.
The JSC now aims to build on the experience and knowledge gained in Cambodia to improve physical education in other countries, in line with its mission of harnessing the power of sport to enhance international cooperation and create a brighter future for people throughout the world.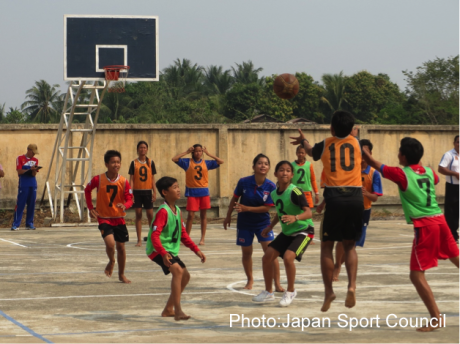 About the Sport for Tomorrow Programme:
The Sport for Tomorrow programme is one of the commitments of the Government of Japan to leverage the power of sport and further promote the Olympic and Paralympic movements to create a brighter future for people throughout the world. The programme aims to implement a variety of sporting events and activities that will engage over ten million people in over 100 countries spanning a seven-year period, culminating in 2020. This will enable Japan to achieve its objectives of providing assistance to developing countries, training future sports leaders at new international sports academies, and protecting both athletes and the integrity of sport by promoting global anti-doping initiatives. By 2015, the Sport for Tomorrow programme engaged some 1,096,000 worldwide people through its various activities.
About the Sport for Tomorrow Consortium:
The Sport for Tomorrow Consortium was launched in August 2014 in order to align the concerned organisations in both the public and private sectors with a common vision. Chaired by representatives of the Japan Sports Agency, the newly established government agency within the Ministry of Education, Culture, Sports, Science and Technology (MEXT) and the Ministry of Foreign Affairs (MOFA), the consortium's Steering Committee is made up of key members of the Japanese sporting community with the remit of making the optimal use of existing resources. The Japan Sport Council serves as the consortium's secretariat.
About Hearts of Gold:
A nonprofit organization (NPO) represented by Yuko Arimori, two times Olympic medalist in marathon, Hearts of Gold was founded in 1998 by participants in the first Angkor Wat International Half Marathon held in December 1996 with the aim of "realizing a society where people can share hope and courage beyond national borders, races, and handicaps through sports." They are promoting international developments through sports and sports for the disabled mainly in Cambodia.